UNDERWATER CLEANING OF SHIPS, VESSELS AND YACHTS
The newest CAVI-JET EQUIPMENT realized as CAVI-JET SYSTEMS AND DEVICES' COMPLEXES is destined for high productive underwater cleaning of the river boats and sea - craft of any type and displacement:
large bulk-carriers, container ships, trawlers, bulkers, tankers
passenger and tourist ships
pleasure boats and yachts
floating docks and ancillary vessels
warships and submarines
special ships - floating drill boring plants, operational stations, scientific and research vessels etc.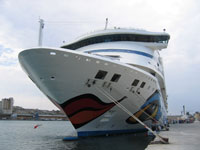 CAVI-JET EQUIPMENT, being extra effective to remove the hard thick fouling, without damaging expensive paint and varnish anti-fouling coating, allows to execute high-speed and high-quality careen deep water cleaning of the vessels of any type at any stage of their movement:
in the stage of waiting for entering the port - on the roadstead
in the stage of loading and unloading and tanking activities in the port
in the stage of waiting for staging into dry dock or repair wharf
in the stage of the seasonal stand etc.
out at sea

| | |
| --- | --- |
| CAVI-JET SYSTEMS are absolutely environmentally safe, since only the out board water is used for cleaning. | |
This fact, and also the fact of the absence of the rubbing effects on the surface being treated, allows using CAVI-JET EQUIPMENT to clean tankers, oil-loading and floating filling stations.